You'll find poetry books galore in the 811 section of the library, but did you know that we also have novels in verse? These are narratives, or "chapter books" that are written in verse, using deliberate line breaks. Usually they're written in free verse, but they can rhyme too!
Don't know what I mean? Here's an example from
Love That Dog
by Sharon Creech:
September 27

I don't understand
the poem about
the red wheelbarrow
and the white chickens
and why so much
depends upon
them.

If that is a poem
about the red wheelbarrow
and the white chickens
then any words
can be a poem.
You've just got to
make
short
lines.
Love That Dog
by Sharon Creech (2003)
Jack hates poetry. Only girls write it and every time he tries to, his brain feels empty. But his teacher, Ms. Stretchberry, won't stop giving her class poetry assignments—and Jack can't avoid them. But then something amazing happens. The more he writes, the more he learns he does have something to say.
Other novels in verse by Sharon Creech:
Hate That Cat
and
Heartbeat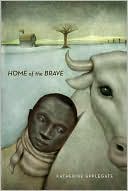 Home of the Brave by Katherine Applegate (2007)
Kek comes from Africa. In America, he sees snow for the first time, and feels its sting. He's never walked on ice, and he fallls. He wonders if the people in this new place will be like the winter--cold and unkind.
In Africa, Kek lived with his mother, father, and brother. But only he and his mother have survived, and now she's missing. Kek is on his own. Slowly, he makes friends: a girl who is in foster care, an old woman who owns a rundown farm, and a cow whose name means "family" in his native language. As Kek awaits word of his mother's fate, he weathers the tough Minnesota winter by finding warmth in his new friendships, strength in his memories, and belief in his new country.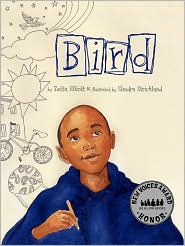 Bird
by Zetta Elliott (2008)
Young Mekhai, better known as Bird, loves to draw. With drawing you can erase the things that don't turn out right. In real life, problems aren't so easily fixed.
As Bird struggles to understand the death of his beloved grandfather and his artistic brother's decline into drug addiction, he escapes into drawing as an outlet for his emotions and imagination. Along the way, with the help of his grandfather's friend, Bird finds his own special somethin' and wings to fly.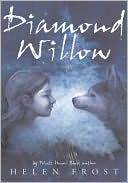 Diamond Willow by Helen Frost (2008)
Twelve-year-old Willow would rather blend in than stick out. But she still wants to be seen for who she is. She wants her parents to notice that she is growing up. She wants her best friend to like her better than she likes a certain boy. She wants, more than anything, to mush the dogs out to her grandparents' house, by herself, with Roxy in the lead. But sometimes when it's just you, one mistake can have frightening consequences . . . And when Willow stumbles, it takes a surprising group of friends to help her make things right again.
Where I Live by Eileen Spinelli (2007)
Diana loves where she lives. She loves the astronomy charts on her walls and the fact that she can wave to her best friend, Rose, from her very own window. And best of all, a wren has recently made its home right by her front door! When her family is forced to move, Diana wonders if she'll ever find that same grounded and happy feeling again.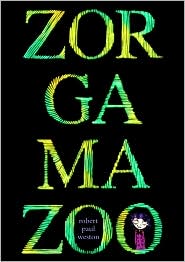 Zorgamazoo by Robert Paul Weston (2008)
Are You a Believer in Fanciful Things? In Pirates and Dragons and Creatures and Kings?
Then sit yourself down in a comfortable seat, with maybe some cocoa and something to eat, and I'll spin you the tale of Katrina Katrell, a girl full of courage (and daring, as well!), who down in the subway, under the ground, saw something fantastical roaming around . . .
What was it she saw? I'd rather not say. (Who's ever heard of a Zorgle, anyway?)
But if you are curious, clever and brave, if intrepid adventure is something you crave, then open this book and I'll leave it to you to uncover the secret of ZORGAMAZOO!
Locomotion
by Jacqueline Woodson (2003)
When Lonnie Collins Motion—Locomotion—was seven years old, his life changed forever. Now he's eleven, and his life is about to change again. His teacher, Ms. Marcus, is showing him ways to put his jumbled feelings on paper. And suddenly, Lonnie has a whole new way to tell the world about his life, his friends, his little sister Lili, and even his foster mom, Miss Edna, who started out crabby but isn't so bad after all.