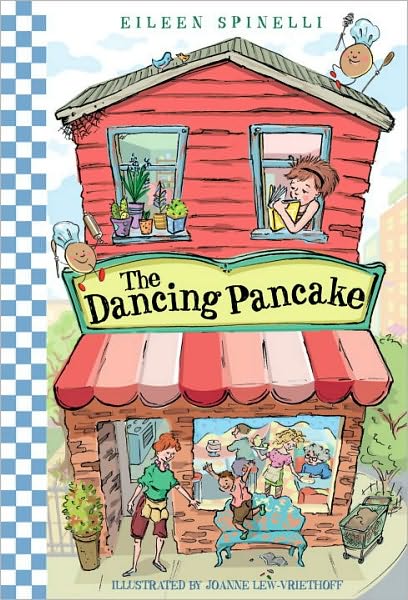 The Dancing Pancake
by Eileen Spinelli
published May 2010 by Random House
256 pages (hardcover), ages 8-12
Eleven year-old Bindi is confused and hurt when her father moves to another town to take a job. Her mom and her aunt also make a big change in their lives, and they buy a restaurant - The Dancing Pancake. Not only does Bindi have to live without her dad, but she's also squeezed into a tiny apartment above the restaurant so her mom can save money. Bindi feels like she has to grow up too fast, and she's not handling the changes so well. But lucky for Bindi, she has some great people in her life - her friends Albert, Megan and Kyra are always there to listen and joke and understand, and there's her restaurant family too. From her adorable, younger cousin Jackson to the sweet teenage waitress and the regular coffee and toast customer, Bindi makes some new friends who help her through this rough time in her life.
This book is written in verse (perfect for National Poetry Month!) and reads very quickly. Bindi's story is heartfelt and honest. She's quirky and spunky, but she can be selfish too - and her friends will tell her so. Because the book is written from Bindi's perspective, we know everything that's going on in her life but don't get to know any of the other characters until Bindi herself takes the time to. And she does. Bindi matures as the story unfolds, and she learns how to be a good friend too.
Although we don't have this book in the library yet, I wanted to write about it because I read it recently and really liked it. I liked it so much that I put it on our Wish List for
Books by the Bushel
, which is coming up in just over a week. What's that, you say?
Books by the Bushel
is a fund-raising event organized by the Junior League and hosted at Barnes & Noble. It's a chance for school libraries in the area to receive books on our Wish Lists by the generosity of our community. This year, it takes place on
April 15, 16, and 17
. Find more information at the
Junior League's website
. We hope that you'll visit and do some shopping so that we can add books like
The Dancing Pancake
to our school library!
(
ETA
: You can support us at your own B&N and/or online too! Just print the voucher from the Junior League website to use in-store 4/15-4/17 or use the voucher number when ordering online through 4/22.)