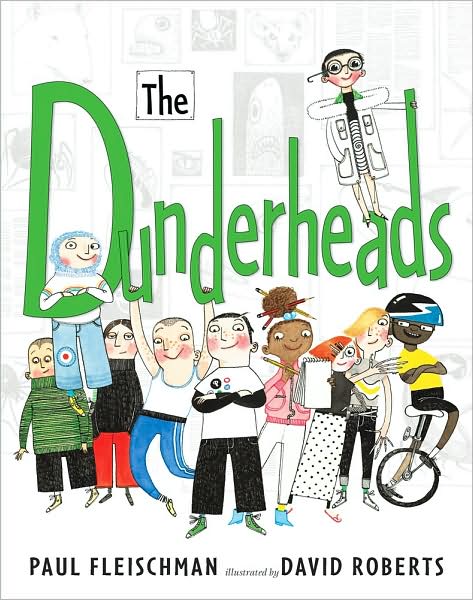 The Dunderheads by Paul Fleischman, illus. by David Roberts
published June 2009 by Candlewick
56 pages (hardcover), ages 6-10
Miss Breakbone hates kids. Unfortunately for everyone, she is a schoolteacher, which means that she's around kids
all the time
. The book starts with Miss Breakbone screaming at her class: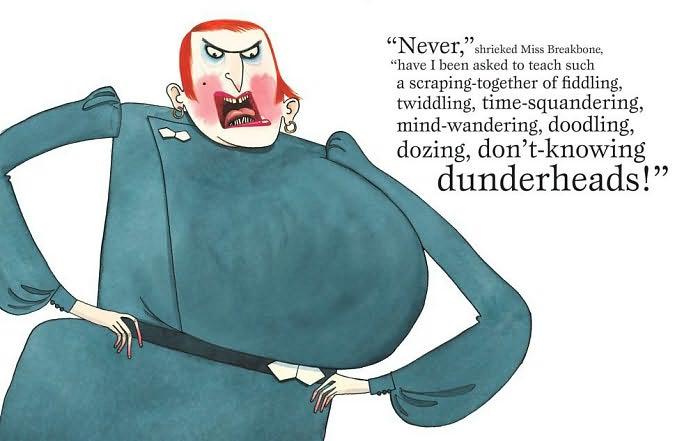 Well, these dunderheads won't have it! After Miss Breakbone pushes Theodore (aka Junkyard) too far by taking away his mother's birthday present, the kids band together and decide to sneak into Miss Breakbone's house to get it back. The students are a cast of characters with unique talents, from Hollywood the movie buff to Einstein the brainiac to Spitball (you can guess what he's good at it). They cleverly work together to break into Breakbone's to retrieve Junkyard's confiscated treasure.
I'll be using this book with third grade students for our almost-end-of-the-year readaloud because it is just SO MUCH FUN! The illustrations, as you can see from above, are fantastic and help tell the story where the text may be a bit elevated. For that reason, I'll have it projected up on the SmartBoard, so that students can follow along with me and everyone can see the pictures. I hope it's a hit with students!