KINDERGARTEN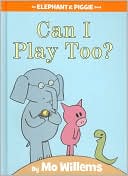 We are ending the school year with a Mo Willems author study in kindergarten. This week we read some beloved Elephant & Piggie stories -
We Are in a Book!
and
Can I Play Too?
We love Elephant & Piggie stories in kindergarten! They're easy to read, funny, and show us how to be good friends.
1ST GRADE
Keena Ford is just starting second grade, and she is going through a lot of emotions. She's sad that she won't be in the same class as her best friend Eric, and she's afraid that she'll be spending most of the school year with Mr. Lemon, the time-out teacher. But when she meets her new teacher Ms. Campbell, she decides that she LOVES second grade. Until she makes a mistake that she has trouble fixing...
I'm reading
Keena Ford and the Second Grade Mix-Up
by Melissa Thomson aloud to our first grade classes, and they are loving it. They can definitely relate to Keena's truth-telling problem!
SECOND GRADE
For our end of the year readaloud in second grade, I am reading
The Dream Stealer
by Sid Fleischman. This is a whimsical story about a little girl named Susana and the bandit who steals her good dream one night. She is a fiesty gal who wants her dream back! She convinces Senor Dream Stealer to return her dream, but they must first fly to his castle far, far away.
It's a magical story that students are enjoying, with a little bit of mystery and a lot of spice.
THIRD GRADE
Third grade students got a primer in the Dewey Decimal System this week. We've been practicing using the online library catalog all year and especially using call numbers to find picture books and fiction books. This week I unveiled the mysteries of the "nonfiction" collection!
FOURTH GRADE
We are focusing on folktales from around the world to finish off the school year in fourth grade. This week we read
Koi and the Kola Nuts, a Liberian Folktale
retold by Verna Aardema. Koi, the youngest of the chief's sons, does not share in his brothers' inheritance when his father passes away, and instead is gifted nothing but a kola tree. Using his wits and his kind heart, Koi meets several animals on his travels who are in need of kola nuts for some purpose or another. Koi's generosity to these animals comes back to him when he needs help to win the hand of a chief's daughter in another town.
4TH/5TH GRADE
We can't wait to share these when we finish at the end of the year!
5TH GRADE
I missed fifth grade students this week, as they were on a field trip in Springfield. They too are creating book trailers and will need to work very hard to finish before school lets out!
P.S.
This was our
LAST
week for library checkout. All books are due next week on students' regular checkout days.